Promotion! I can make even more of a difference!
Hi, everyone. If you have been following this site, you know that I've not been posting a lot lately. That's because I've been so tied up with everything that I've been trying to do. With my wife, Cathy, being as sick as she is, I try to do lots of things around town that don't have locked-in hours–I need to be available if she needs me. I'm also her caregiver, so I can't always be very far away. As not one thing is very sustainable in my small town, I've been doing multiple things (if you know what I've been doing, please feel free to skip down to the next heading. If not, browse away and realize why this is such great news!):
Insurance–I sell life and health insurance to people in my area (mostly seniors for health, but all ages for the other stuff). This is by appointment only, so I can see people and be a great agent for them. Without leaving town, though, this isn't very sustainable. You can see my site devoted to that or visit/like my Facebook page.
Music Lessons–I teach music lessons to a variety of people. My youngest student is 6 years old and my oldest student is probably 61. I do this through Lifeline Christian Fine Arts Academy. I love teaching and I love music. I love that I can do this through a Christian organization. I schedule my lessons so that they fit in a great schedule for my family. This helps pay some bills and allows me time to plan for worship services. Right now, there are sites in Carmel, Mooresville, Elwood, Spencer, and Noblesville. You can find more information out here.
Green Cleaning–My wife and I are also in the business of green cleaning products. We mostly focus on Norwex (it's amazing stuff that saves you money). We offer Facebook or Face-to-face parties to help you get free products. Check our Facebook page for monthly specials or to set something up. There's another company that we work with that does other things for green living. If you haven't heard of it, you should check it out here. Join and save (like a Sam's Club, but better).
Rideshare!–I drive for both Lyft and Uber. If you aren't familiar with these, they are like taxi services, but people use their personal vehicles. They have to go through background checks and all that so that everything is safe. I literally log on to these services when nothing else is going on and I am not needed at home. If you don't have memberships with these services, you can get coupons for Lyft and Uber.
Affiliate Marketer–This is something I could do from home if I had time. There isn't a whole lot of time left over after the previous items! But, in doing this, I can make passive income from posting about things that I love. Want more information here? You should check out this site. It is legit (as I research HEAVILY before I join anything).
Accompanist–I've been leading worship at the contemporary service at my church and playing piano for the traditional service. Most of the work here has been volunteer work–as I'd spend hours preparing for some services. I love it! But it couldn't pay any bills since it was mostly volunteer work.
So many jobs!
I've done all this to keep things afloat. Most of the time, since I can't really focus on one thing, things have been rough. With that combined with the ever-mounting medical bills, my life has been crazy. I've been devoted to doing SOMETHING all day, almost every day. So, I haven't been posting as much as I would like. But, something just happened:
I NOW HAVE A SALARIED POSITION AT THE CHURCH as of 9-12-16!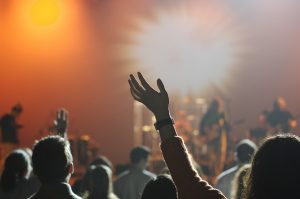 This is fantastic news! It seems that all of my life up until now has come together for this position. God has truly blessed me. I now get to constantly combine three of my biggest passions together almost daily for God and to pay the bills. I am now officially Worship Leader of the church (though my senior pastor wanted to call me "Worship Pastor").
I went to college for music, and now I get to use it every day! I have wanted to work for the church since I was baptised, and now I am. I build computers and love working with them, and now I do that as well! As a bonus, I get to share what I learn in this new position with you all. Most of the above jobs will still be around in some capacity as this is still a part-time job. But, I can devote so much more time to God and His people. Thank you for being there and thank you for your support.
We can still use your support
Whether you would like to visit our resource store, donate through paypal, or even host a Norwex party, anything and everything will help keep this site alive. I appreciate all that you do and continue to look forward to serving you, my online family. God bless you all.